Cattle Panels
Real Tuff cattle panels are built to last for years to come
Description
All cattle panels are built with heavy duty 12 gauge, high quality, 1″ square tubing.
Standard 6 bar panel with 7 bar option
Products are standard unpainted
but available painted for additional
charge.
We carry standard sizing panels and gates.
(even sizes)
Corral Panels (sizes: 6 to 24 ft)
Swinging Gates (sizes: 6 to 24 ft)
Walk-In Panels (sizes: 4 to 14 ft) includes 6′ Gate (example 10′ WIP is 6′ Gate and 4′ Panel)
Creep Feeder Panels (sizes: 8 to 12 ft)
Skirted Feeder Panels (sizes: 6 to 12 ft)
Round Pens
Pens made with cattle panels and walk-ins
Drive Over ATV Gate
Example of how Tuff our Real Tuff panels really are!
Our portable system contains hook ups in to add our durable panels to any field for an immediate corral system.  Work your cattle with ease, confidence and safety.
If it doesn't say Real Tuff, it's not "real-tuff"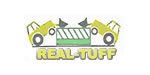 Contact us with questions.
Additional information
| | |
| --- | --- |
| Select the product: | Corral Panels, Swinging Gates, Walk-In Panels, Creep Feeder Panels, Skirted Feeder Panels, Round Pens, 24 ft. Continuous Fence, 25 ft. Standalone Panels, 25 ft. Windbreak Panel, Drive Over ATV Gate |
| Size: | 4ft, 6ft, 8ft, 10ft, 12ft, 14ft, 16ft, 18ft, 20ft, 22ft, 24ft, 25ft, 10 ft = 6′ Gate and 4′ Panel, 12 ft =6′ Gate and 6′ Panel, 14 ft = 6′ Gate and 8′ Panel, none |