No Corner Crowding Tub
Make life easy with the No Corner Crowding Tub from Real Tuff.
Description
Specs on the Cornerless Crowding Tub from Real Tuff Livestock Equipment:
The cornerless crowding tub is an excellent addition to any livestock handling system. Real Tuff's tub features solid sides which help cattle stay focused. The design assists cattle to move in the correct direction without getting turned around or caught in the system. Two exit doors improve versatility and ease of use.
Cornerless crowding tub
One piece construction
(for easy setup and strength)
2-way exit
Overhead slide gate
1 1/2″ to 2″ square tubing construction
around tub
Catwalk addition available
Dimensions: 8.5′ x 16′  1300 lbs.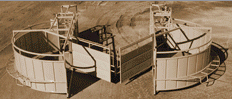 6′ high tub sides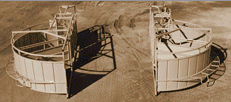 Our No-Corner Tub is designed for better flow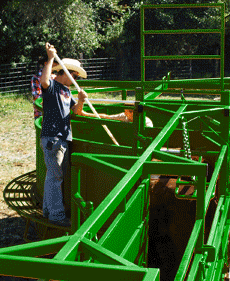 Our • Full catwalk around tub available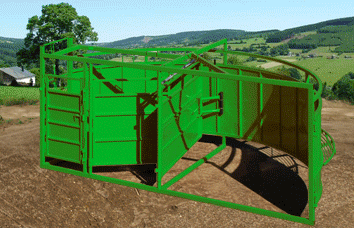 Available in Reverse and Regular Tub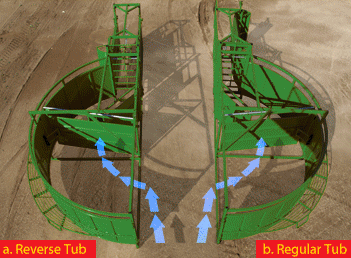 Reverse "Left hand"
Exit Straight or Exit right
Door runs Clockwise
Regular "Right hand"
Exit Straight or Exit Left
Door runs Counterclockwise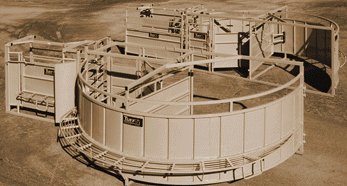 • Formed, ribbed sides for extra strength
• Available with 6′ panel to give angle to alley or tub Portable tub and alley combo available. Catwalk additional.
Video below shows the Real Tuff portable system demonstrating the Squeeze Chute, the Adjustable Alley and the No Corner Tub.
Customers can the Squeeze chute, the Adjustable Alley and the No Corner Tub  individually or as a portable unit.
View our Real Tuff portable handling system page
At Real Tuff we strive to keep up with current trends and adapting to changing customers needs. Please keep in mind that the equipment shown in this video may have been updated or slightly changed since filming to meet our customers needs.
Complete Your System
Each piece of equipment has hook-ups attached to easily connect to the next piece in your livestock handling system. Many cattlemen prefer to add an adjustable alley to the no-corner tub exit and then connect a squeeze chute. Cattle panels can also easily hook up to the equipment and are a great addition if you want sorting pens.
Real Tuff Hydraulic Chute, Tub and Alley