Real Tuff Portable Cattle Handling Equipment
Make life easy with the deluxe portable cattle handling equipment from Real Tuff.
Portable Cattle Handling Equipment Features:
8' No Corner Crowding Tub
8.5' adjustable alley
Squeeze chute with Palpation cage
Automatic reset head gate
Cat walk on tub and alley
Cat walk on tub is removable for easy hauling
Optional Items:
Brisket Bar
Neck Extender
Manual or Electric Jacks
Also Available:
No corner tub & 20' alley section
Portable 20' alley
Dimensions: 36' L x 8.5' W & 4' W x 6.5' H
Weight: 4,800 lbs.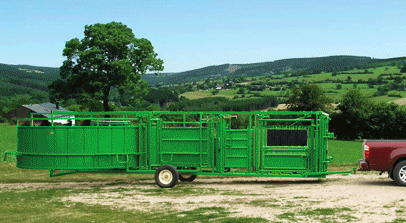 The fast & easy way to move to remote pastures & yards.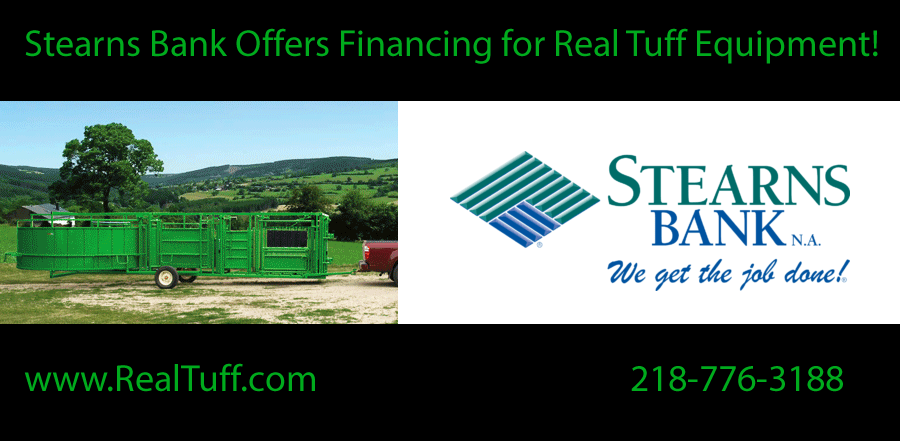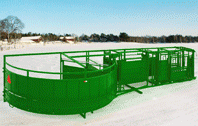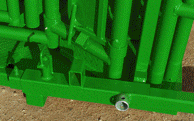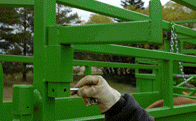 Simply remove the wheels and you are ready to work.
You can lower and raise the portable cattle handling system with 3 different options:

Use a forklift or tractor and loader to lift it up or down.
Utilize a handy man jack.  The connections are already on the portable unit for this.
Order it with jacks for an additional charge. We offer manual or electric jacks.

Self-locking, quick-attach hitch. Available as a pin hitch or ball hitch.
Standard removable panel transporting brackets. Easily carry cattle panels with to set up a corral system wherever you take the portable system.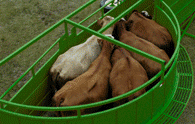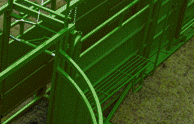 Alley adjusts from 20" to 32"
Catwalk on straight alley.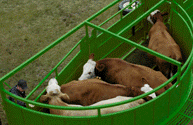 Standard extra-large tub
Full catwalk around tub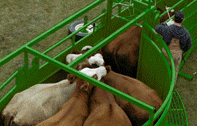 No corner tub easily directs the flow of cattle to the alley
Enclosed sides make cattle feel safe
The video below shows the Real Tuff portable handling system demonstrating the Squeeze Chute, the Adjustable Alley and the No Corner Tub.
Our Squeeze chute, Adjustable Alley and No Corner Tub can be d individually or as a portable unit.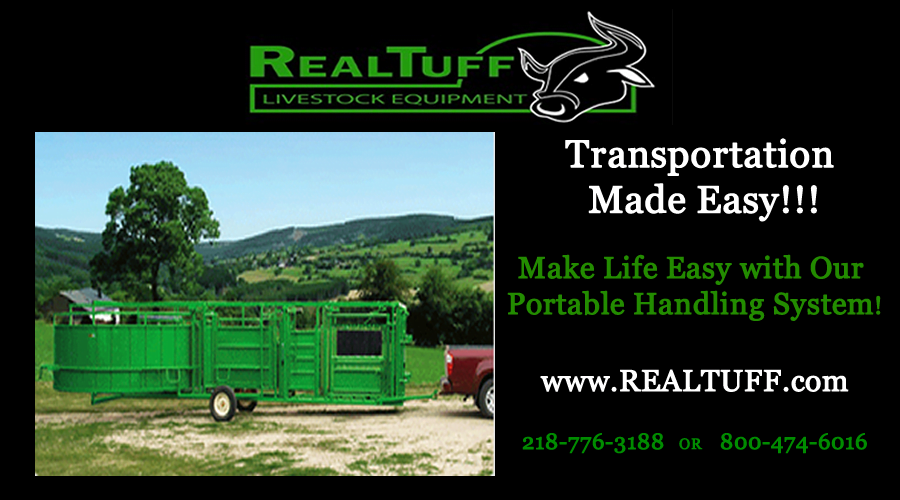 Above all we strive to keep up with current trends and adapting to changing customers needs. However, please keep in mind that the equipment shown in this video may have been updated or slightly changed since filming to meet our customers needs. Therefore we ask you to check out our equipment in-person to see any changes.
Here's what some of our customers have been saying about our product:
"LOVE, LOVE, LOVE THIS CHUTE!! I want to thank you for making an incredible product. It is so kid and husband friendly lol. We never missed one cow or calf today preconditioning. Our crew includes kids aged 16, 15, 12, 10 and 2. There was not one instance of a cow doing something wrong. It just all flowed so well. I loved that I could run the chute, give shots, and let the next cow in and the crew/kids kept cows coming to me.
I felt so SAFE- a cow wasn't coming up out of the chute or jumping out of the alley or tub. The neck extenders were awesome. Everything is welded and strong. I never had to worry about where the kids were when a spunky cow came through. Thank you again for an amazing product.  And whoever came up with the fiberglass butt bar with the latching dogs on the side and the new slick door at the back of the chute needs a raise in pay - awesome idea. Well, thank you again for making an amazing product and video!!!"
-Wendy H. from North Dakota