Real Tuff Hoof Trimming Chute
Make life easy with the Hoof Trimming Chute from Real Tuff.
Description
Hoof Trimming Chute (HTC)
This unit accommodates :
Hoof trimming
Hoof wrapping
PG testing
Dimensions: 7' H x 8'6" L x 3'4" W
Approx. Weight: 1200 lbs.
Trimming Chute – Easy access by multiple doors to assist the cow and calf safely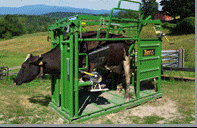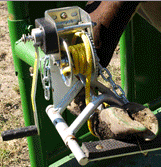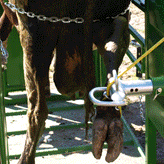 Each Hoof Trimming Chute arrives ready for use and includes the following accessories:
Front Leg: two winches and two 7' ropes
Rear Leg: one winch and one 11' rope
Belly: one winch, belly belt kit and one 14' rope
Butt: one winch and one 6' rope
Replacement accessories are available for in the rare event they wear out or get misplaced.
Real Tuff Hoof trimming chute
Above all we strive to keep up with current trends and adapting to changing customers needs. However, please keep in mind that the equipment shown in this video may have been updated or slightly changed since filming to meet our customers needs. Therefore we ask you to check out our equipment in-person to see any changes.
Here's what some of our customers have been saying about our product:
Dave, this is Gary. I just wanted to thank you on your making of such a fantastic trim chute. My wife and I trimmed our cows feet for the first time this year in this type of chute. They worked through very well and they seemed to be more at ease while we were trimming.
We have used the type of chute that lays them down on their side and they just were not as calm while being trimmed. I really like the little platform you put on the front winches it really stabilizes the foot well and gives you awesome control. Thank you again for a great product.
– Gary
" Talk about saving money on medical bills! Not only for the cows, but my personal medical bills!"
" Best investment I ever made for my farm. "
On the Trimming Chute : " I've never had a chute like this that is so versatile! "