Real Tuff livestock equipment manufactures and supplies livestock handling equipment in USA. We are committed to sell quality livestock handling equipment. Their manufacturing goal is to produce livestock equipment that is:
Safe
Strong (Real Tuff)
Simple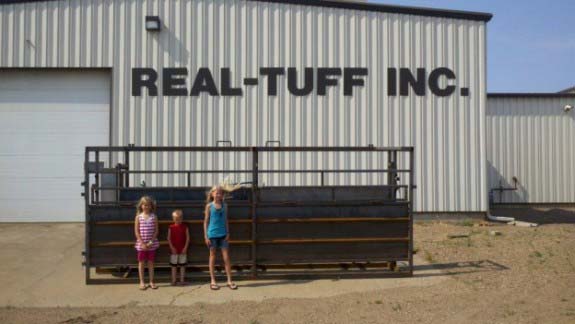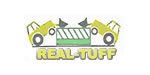 If it doesn't say Real Tuff,
it's not "real-tuff"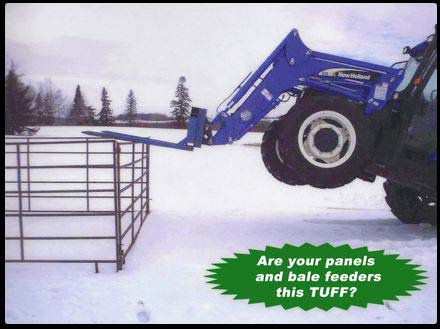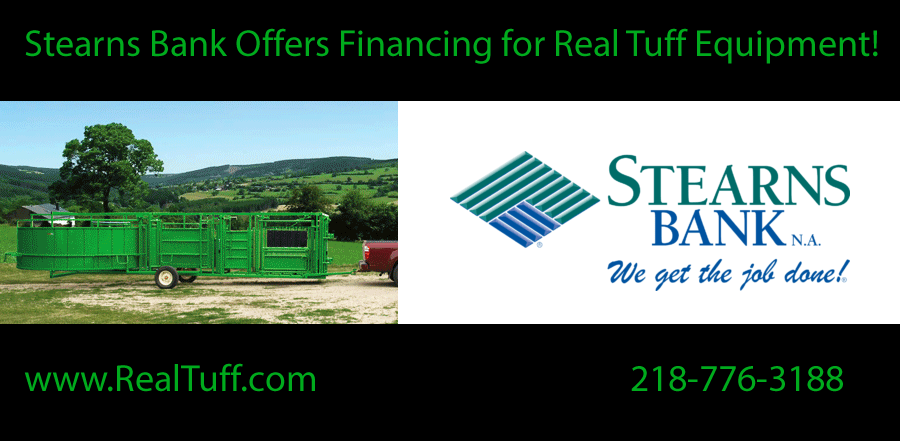 Quote from Mike Helstrom, Meadowlands, MN on 4/28/14…. "I bought panels over 20 years ago from you and they are still holding up!  I would like some more."
---
My name is Dustin Wilcox and I recently d a Real Tuff chute, tub, and 16ft alley. Today we worked 73 cows and 66 calves with no problem. Below is a picture of my 5 year old son poking calves through on the catwalk of the alley. Great equipment!
Thanks,
Dustin Wilcox
Greenbrier, AR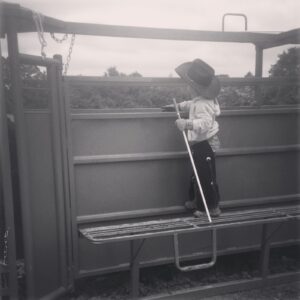 We love hearing from our customers about how our equipment stands up to their herds.
What Makes "Real Tuff"
Outstanding in the
Livestock Handling Equipment field?
Our livestock handling equipment is truly "Real Tuff!"  Look at our picture of the tractor on the panels above.
The owners of the Livestock Handling Equipment are farmers/ranchers themselves.  They have done and do cows!  The livestock handling equipment is put to the test on an owner's cows.
Real Tuff sells a full line of livestock handling equipment including, cattle squeeze chutes, portable handling systems,cattle alley sections, cattle handling tubs, ¼ circular maternity pens, corral panels, bale feeders, stand alone panels, windbreak panels, Walk in gate panels, hoof trimming chutes, cattle scales with cattle ready livestock handling equipment, cattle loading chutes, splitting alleys, chute carts, panel carts  and much more.
Here are some outstanding features of our livestock equipment:
Weighs a ton
Parallel squeeze
Slick bi-fold alley gate
Heavy duty auto head gate
Palpation cage
Squeeze chute cart available
Unique No corner tub
Cat walk
2 exits
Rancher safely protected with ratcheting gate
Heavy duty auto head gate
Nursing panel – calf can suck from either side
Lots of room for pulling a calf
8,10,12,14,16, 20, 24 foot lengths, made of 12 gauge steel
1 inch square tubing
5 year guarantee against bulls and buffalos
Walk In gate panels – 4', 6', 8', 10', 12' – can drive a 4 wheeler through 6' long and longer panels
Feeder panels
25' long
5 ½ ft tall
800 to 1000 #'s
All saddle welded
1" sucker rod
Available in a 2 or 3 way split
Can be placed anywhere in a stationary system
Available as right or left hand exit
Catwalk included
Door swings to sort either way and can be locked in either position
Easy fast adjustment
Drop down panel
No back
Cat walk
8, 10, 16' lengths available
Deluxe squeeze chute
Easy adjustable alley
2 slick Bi-fold alley gates
Scale ready
No corner tub
Cat walk
Recessed hitch
Travels @ speed limit speed
From road to working ready in minutes
25' long
9 ft tall
Approx 1000 lbs
2 & 7/8  diameter oil well pipe
Saddle welds
1" rough sawed boards
5 ft extension feet on each side
No screws, nails or bolts
Heavy duty self catch head gate
Easy removable sides
Butt winch
Wide belt
5 brake winches,
Excellent for Hoof trimming, DA's, PG, AI, IV
Excellent for doctoring procedures
Portable or stationary available
12' long
Prodding slot
Side door closure
Molded rib floor for footing
Portable loading chute has winch lift which one man can operate
Stearns Bank Offers Financing for Real Tuff!
Stearns Bank N.A. is a $2 billion financial institution providing nationwide equipment financing for your unique business needs.
Employee-owned, Stearns Bank takes pride in providing fast response times, customized financing solutions and personal service, from start to finish. In addition, Stearns Bank is a nationwide Preferred SBA Lender dedicated to growing businesses by providing flexible, fast financing. With in-house approvals and a streamlined documentation and closing process, providing the financing you need when you need it. We get the job done™