Econo Chute
Budget Friendly Chute!
Description
Econo Chute is our budget-friendly squeeze chute, which doesn't compromise quality at all. Its handmade, drop-gate design is beneficial for getting livestock on and off the chute faster.
The Econo chute's dimensions are 8.5′ x 36″  1100 lbs. On top of that, the fence has a frame height of 6'4″ and measures 5'0″ high—allowing for an ideal mounting height for any livestock or animal.
Customers can use this live animal trap in many ways. The low rear gate makes it easy to lead animals into the squeeze chute as well as to return them to the corral or pasture. In conclusion, the Econo chute will get the job done all while saving you money!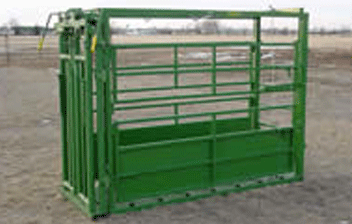 Specs on the Real Tuff Econo Chute:
Dimensions: 8.5′ x 36″  1100 lbs.
Has a mechanical squeeze
Split doors on both sides
Full Floor
Drop gate on back
Comes with pipes for grooming
Can be with or without automatic spring-loaded headgate.
Contact us with questions.