Specs on the Real Tuff Straight Split Alley:
8.5′ Adjustable Alley

Straight Alleys – comes in 3 lengths:
8.5′ x 37″  1100 lbs.
10.5′ x 37″  1300 lbs.
17′ x 37″  1900 lbs.• Built-in no-back
• 1 piece catwalk
• 1 lever adjustment from 30″ to 20″
• Reversible for catwalk to be on other side
• Drop panel for easier reach of animals

17′ Adjustable Alley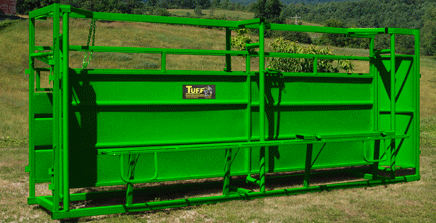 | | |
| --- | --- |
| • Adjustable for a smoother flow | |
Video below shows the Real Tuff portable system demonstrating the Squeeze Chute, the Adjustable Alley and the No Corner Tub.
The Squeeze chute, the Adjustable Alley and the No Corner Tub can be purchased individually or as a portable unit.
View our Real Tuff portable handling system page
At Real Tuff we strive to keep up with current trends and adapting to changing customers needs. Please keep in mind that the equipment shown in this video may have been updated or slightly changed since filming to meet our customers needs.