Round Bale Feeders from Real Tuff

Skirted Bale Feeder – unpainted

We offer round bale feeders (regular or skirted) for use with cattle.
All of our panels, gates, skirted feeder panels and bale feeders are available unpainted or painted (at an additional charge).
Our horse feeder (tombstone style) shown below only comes skirted.
Our bale feeders come in two piece units. You can use bolts to connect the halves or weld them together.
Regular Bale Feeder

Available in cow or calf spacing
(shown in cow spacing)


• Constructed of 1x1x100 wall square tubing (12ga.)
• Completely welded each joint
• Features slant bar construction
• Suitable for bulls – Weight 185 lbs.

Skirted Bale Feeder

Available in cow or calf spacing
(shown in calf spacing)


• Constructed of 1x1x100 wall square tubing (12ga.)
• Constructed with 18″ of 16 ga. skirting
• Also features slant bar construction
• Weight 230 lbs.
Tombstone Feeder
(shown in halves)

• For use with horses
• Eliminates mane rubbing
• Hoops – 1x1x100 wall 12 ga. square tubing
• 16 ga. Skirting – Weight 260 lbs.


The bale feeders come with a 5 year guarantee against animal damage.
We are also an authorized dealer of The Hay Manager feeders.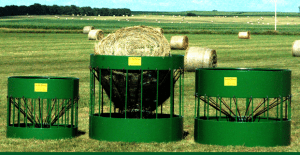 Along with all of the other equipment needed for raising cattle or horses, bale feeders are high up on the list of important things.  Having a bale feeder will protect the hay bale from being trampled on and leaving them fresh to be used only as food for your cattle or horses. There are different types of feeders, such as horse round bale feeders and cattle round bale feeders.  Each of these types allows for greater accommodation for the respective animal.
Horse Round Bale Feeders
The most accommodating round bale feeder for horses would be a Tombstone Feeder.  This has a skirting on the bottom of the round feeder to prevent the hay from getting stepped on.  The "tombstone" looking bars that are attached to the skirt eliminates the horses' mane from rubbing on the bars.  This also helps control crowding around the hay bale, allowing each horse to have ample room for feeding.  If the horses are too close together they may become irritated with each other, causing problems in the pen.
Cattle Round Bale Feeder
For cattle round bale feeders there are two main options, a skirted feeder or a non-skirted feeder.  The bars on a cattle hay feeder are a different shape from the horse feeders. These have bars that are diagonal to allow for more spaces for the cows heads around the feeder. Unlike the horses, cattle can eat closer together.  With the two options for skirted or non-skirted cattle round bale feeders, there are two different sizes to accommodate for caves or for adult cows.
Selecting a round bale feeder for your livestock will help keep the hay out of the mud. This will be the best way to make sure you get the most out of the hay you purchase for your horses and cattle.  These bale feeders are built tough.  They are heavy-duty which makes them able to stand up to the rough life inside the pen.