Real Tuff Hoof Trimming Chute
Hoof Trimming Chute (HTC)
This unit accommodates :
– Hoof trimming
– Hoof wrapping
– PG testing
– DA
– AI
Dimensions: 7' H x 8'6" L x 3'4" W
Approx. Weight: 1200 lbs.
| | | |
| --- | --- | --- |
| |   |   |
| | Left front leg lift | Rear Leg Lift |
Each Hoof Trimming Chute arrives ready for use and includes the following accessories:
Front Leg: two winches and two 7' ropes
Rear Leg: one winch and one 11' rope
Belly: one winch, belly belt kit and one 14' rope
Butt: one winch and one 6' rope
Replacement accessories are available for purchase in the rare event they wear out or get misplaced.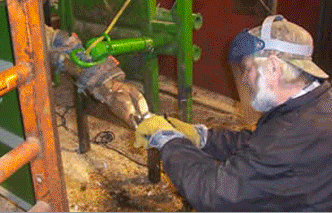 Real Tuff Hoof trimming chute
At Real Tuff we strive to keep up with current trends and adapting to changing customers needs. Please keep in mind that the equipment shown in this video may have been updated or slightly changed since filming to meet our customers needs.
Here's what some of our customers have been saying about our product:
" Best investment I ever made for my farm. "
" Talk about saving money on medical bills! Not only for the cows, but my personal medical bills!"
On the Trimming Chute : " I've never had a chute like this that is so versatile! "