Safety is the most important part of any business.  When it comes to working with livestock, every product needs to be perfectly and uniquely designed to account for the safety of the animal as well as the safety of the handler. Making sure you have the right portable cattle handling system can contribute to the highest level of safety for everyone involved.
Portable Handling System
Using a portable handling system for your cattle is the easiest way to manage the livestock and keep yourself safe in the process.  This equipment is especially helpful if you have a number of pastures and you need to take your equipment to where the cattle are.  Our cattle handling system essentially connects to your truck or tractor like a trailer and includes all of the convenient, safe handling equipment that would otherwise remain stationary on the farm.
Our portable system includes a no-corner crowding tub, a nine foot adjustable alley, a squeeze chute with a palpation cage, a head gate, and a catwalk on the tub and alley. We have one deluxe model squeeze chute which is included on the portable system. Real Tuff has developed this squeeze chute through several years of experience. Dave Dahlberg, co-owner of Real Tuff Livestock Equipment, runs his own 250 cow-calf operation, and so this squeeze chute has been modified and improved over the years to become the "Cadillac" of squeeze chutes today.
All of these above factors make for a much safer and more productive time working with your cattle.  The portable cattle handling system will allow the equipment to do the dangerous part of managing the cattle's movements, and will at the same time protect the handler from potentially getting hurt in the process.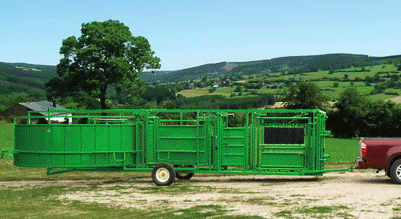 Click below for more information: